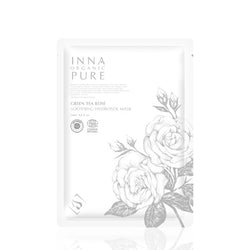 Inna Organic
Inna Organic Green Tea Rose Soothing Hydrosol Mask
Green Tea Rose Soothing Hydrosol Mask: an instant water recharge for all skin types. Soothes dry skin and calms irritated delicate skin. This gentle mask is 99% natural with over 20% of organic ingredients, perfect for calming signs of sensitivity during seasonal changes.
 How to use:
15 minutes of pampering to"glow from within"
- Facial masks are one of the most effective skincare products, as it force-feeds your skin an intense amount of active ingredients in 10-15 minutes.
- INNA organic uses BemlieseTM mask fabric made in Japan, as it has superior absorbency powers, leaving behind little remnants of the serum in the packaging, and releases nutrients back to your skin in a short period of time.
-We recommend removing the mask while it's still damp with serum, don't leave it on until it dries out. For example, remove the mask sooner if you are in a room with a heater on or in a flight cabin.
Reminde
 Every individual's skin is unique, please dab a small amount of serum behind your ear or corner of your cheek to check for allergic inflammations, before applying the mask on your face. Especially if you have extra sensitive skin prone to allergies.
All ingredients listed on the product packaging - transparency you can trust! Demineralized Water, Rosa Damascena Flower Water*, Glycerin, Propanediol, Aloe Barbadensis Leaf Juice*, Anthemis Nobilis Flower Water*, Betaine, Sodium Extract*, Olea Europaea (Olive) Leaf Extract, Sodium Dehydroacetate, Dipotassium Glycyrrhizate, Camellia Sinensis Leaf Extract*, Xanthan Gum, Sodium Hyaluronate, Citric Acid
*Ingredients from organic farming.
EWG verified, no harmful ingredients listed in the EWG database allowed, there are over 60'000 of them existing in many beauty products on the market.(yikes!)
COSMOS NATURAL certified, the European standard for organic ingredients and manufacturing processes, including how the essential oil is extracted to provide the most natural and sustainable products for our consumers