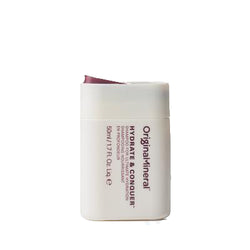 O&M
O&M Hydrate and Conquer Shampoo 50ml
NATURAL MOISTURIZING SHAMPOO
Hydrate & Conquer Shampoo cleanses and moisturizes dry, damaged and coarse textures with Tasmanian Sea Kelp packed with Vitamins A, B, C, & E and 13 amino acids.
All O&M Hair Care products are consciously formulated with nourishing Australian naturals, vitamins and gentle surfactants that create healthy, lustrous hair without the chemical overload. Does not contain: parabens, triclosan, phthalates, sulfates or sodium chloride.
 How to use: Apply small amount of Hydrate & Conquer Shampoo. Gently massage into scalp. Rinse. Follow up with Original & Mineral's Hydrate & Conquer Conditioner.
Benefits:
Gently cleanses and moisturizes dry, damaged hair
Nourishing Australian naturals promote optimal scalp and hair health
Non-Toxic formula supports good health and well-being
Cruelty Free & Vegan
Ingredients:
Tasmanian Sea Kelp instantly nourishes and infuses moisture into dehydrated hair. Macadamia Seed Oil cleanses, while eliminating dryness and frizz. Aloe Verahydrates and soothes the hair and scalp. Natural Surfactants from coconut ensures a gentle cleanse without stripping scalp of it's natural oils.