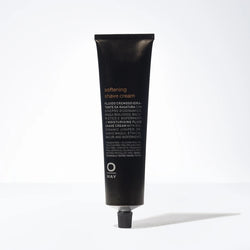 Oway
Oway Softening Shave Cream
MOISTURIZING SHAVE CREAM
Our Oway Softening Shave Cream preps and softens the hair for fuss-free shaving. It contains a blend of soothing plant-derived emollients which enables our Oway Linea Razor to gently glide closely and effortlessly over the skin, preventing nicks and cuts.
Biodynamic Juniper, Organic Maqui, Ethical Bacuri and Bio-ferments strengthens the skin's immune system to fight off any possibilities for infection or irritation.
Ideal for all skin types, especially for sensitive skin.
A moisturizing shave cream that preps and softens hair for a clean, no-nonsense shave.
• Ideal for all skin types, even the most sensitive
• Rich, moisturizing shaving mousse preps and protects the skin prior to shaving
• Softens the hair and skin for a precise shave without irritation or discomfort
• Soothing emollients calm and comfort the skin to prevent redness and irritation
• Dermatologically tested / nickel tested
• Cruelty-Free & Vegan
 

How to use: Moisten skin and spread the product evenly with your hands on the areas to be shaved. Proceed with shaving. Rinse. Apply OWAY REPAIRING AFTER SHAVE BALM.
RESURRECTION PLANT: It's thought that the ability of these plants to survive such extreme dehydration is due to the presence of a sugar called trehalose. This molecule protects organisms from extreme conditions by stabilizing proteins and preserving cellular membranes. This has a regenerating, anti-oxidative, moisturizing, protective effect on the hair and skin.
 
Habitat: Mexican Desert
 
ORGANIC MAQUI: Also called Patagonian Blueberry, it is considered the most powerful super berry found in Nature. Contains delphinidin, which produces cellular energy and slows down the aging process.
 
Habitat: Patagonia.
 
ETHICAL BACURI BUTTER: Rich in vitamins A, B and C, antioxidants and minerals, it is extremely nourishing and natural emollient for the skin and hair.
 
Habitat: Rainforest.
 
ZEOLITE: Performs an anti-stress, re-mineralizing and detoxifying action. Particularly effective for sensitive skin.
 
Habitat: Volcanic Soils.
 
SIBERIAN GINSENG: Rich in phytonutrients that tone, brighten and energize the skin. Renown for its anti-aging benefits.
 
Habitat: Siberia and Mongolia.
 
BIOFERMENTS:They supply essential nutrients to the hair and skin. They strengthen the cellular cohesion of the tissues, making them more compact. They stimulate the repair and regeneration of the skin.
 
PHYTO-PEPTIDES:Due to its small molecular weight, this ingredient to deeply condition and restore the hair fiber. Its all-natural with a replumping and densifying action gives strength, volume and structure to the hair.
 
PLANT-DERIVED HYALURONIC ACID: Increases cell hydration, improves skin elasticity, reduces wrinkles, densifies and compacts the skin.
 
PLANT STEM CELLS: This advanced ingredient, inhibits the action of the enzyme 5-alpha reductase, which triggers the reaction responsible for hair loss. They also stimulate the activity of dermal papilla cells, which are responsible for hair growth and strength.
FULL INGREDIENTS: (ND) Naturally Derived | (O) Organic | (BD) Bio-dynamic | (EO) Essential Oil | (FT) Fair Trade | (NI) Natural Identical Ingredient | (PS) Preservative System 
WATER, CETEARYL ALCOHOL (ND), GLYCERYL STEARATE (ND), POLYGLYCERYL-3, STEARATE SE (ND), GLYCERIN(ND), PALMITIC ACID(ND), STEARIC ACID (ND), JUNIPERUS COMMUNIPERUS COMMUNIS (JUNIPER) FRUIT EXTRACT (B), ARISTOTELIA CHILENSIS FRUIT EXTRACT (O), PLATONIA INSIGNIS SEED BUTTERl (FT), ACANTHOPANAX SENTICOSUS (ELEUTHERO) ROOT EXTRACT (ND), CHLORELLA VULGARIS/LUPINUS ALBUS PROTEIN FERMENT (ND), TAURINE, ZEOLITE (ND), CITRUS SINENSIS PEEL OIL EXPRESSED (EO), CITRUS MEDICA LIMONUM (LEMON) PEEL OIL (EO), POGOSTEMON CABLIN LEAF OIL (EO), CITRUS NOBILIS (MANDARIN ORANGE) PEEL OIL (EO), CITRUS AURANTIFOLIA (LIME) PEEL OIL (EO), CITRUS GRANDIS (GRAPEFRUIT) PEEL OIL (EO), CEDRUS ATLANTICA WOOD OIL (EO), CITRUS BERGAMIA PEEL OIL EXPRESSED (EO), CITRUS AURANTIUM AMARA (BITTER ORANGE)iPEEL OIL (EO), CITRUS MEDICA VULGARIS FRUIT EXTRACT (ND), CUPRESSUS SEMPERVIRENS LEAF OIL (EO), BOSWELLIA CARTERII GUM OIL (EO), VANILLIN (ND), CISTUS LADANIFERUS TWIG EXTRACT (ND), CITRUS AURANTIUM DULCIS (ORANGE) PEEL OIL (EO), CINNAMOMUM ZEYLANICUM LEAF OIL (EO), COCAMIDOPROPYL BETAINE (ND), XANTHAN GUM (ND), SODIUM HYDROXIDE, ETHYLHEXYLGLYCERIN, TOCOPHEROL (ND), CITRIC ACID (ND), BENZYL ALCOHOL, SODIUM BENZOATE, POTASSIUM SORBATE, LIMONENE (ND), EUGENOL (ND), LINALOOL (ND), CITRAL (ND)