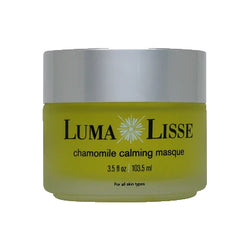 Luma Lisse
Luma Lisse Chamomile Calming Masque
SOOTHING FACE MASK
Alleviate and replenish irritated and sensitive skin types with calming Chamomile Flower, Aloe Vera Juice and Hibiscus Flower Extract. This hydrating gel masque is formulated with ultra-soothing botanicals and gentle humectants to reduce redness, irritation and tightness of the skin. Ideal for Sensitive Skin types, psoriasis and eczema, but gentle enough for all.
Benefits:
-Reduces redness and inflammation
- Gently hydrates and softens the skin
-Soothes and comforts sensitive skin and irritation
- Ideal for treating skin conditions like eczema and psoriasis
-Cruelty-Free & Vegan
Ingredients: Chamomile Flower Extract has natural anti-inflammatory properties that heal and soothe irritated skin. Aloe Vera Juice has been used in Ayurvedic medicine to treat acne, psoriasis and eczema due to its high content of beta carotene, vitamin C and E. Hibiscus Flower Extract is known as "nature's botox" as it combats signs of aging and evens skin tone. Comfrey Root Extract is rich in allantoin, a substance that helps promote new skin cell growth, along with other substances that may work in reducing inflammation and maintaining healthy skin.