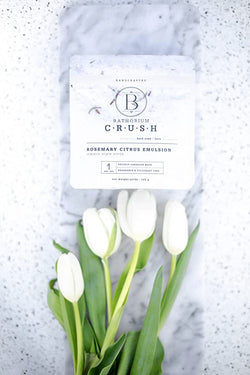 Bathorium
Bathorium Rosemary Citrus Emulsion Bath Soak
Feel the fresh tingle and tightening head to toe with organic raw pressed rosemary essential oil. Beautiful notes of orange, grapefruit and ylang-ylang flow throughout the tub in a creamy cascade of coconut milk.
Nourishing argan oil and mango butter provide essential vitamins to the skin, leaving your whole body rejuvenated and restored.
How to use:
Fill the tub with warm water 
Add 1/2 a cup or 1 packet of CRUSH under running water.
Get naked.
Get in. You've earned it.
Ingredients 
Sodium Bicarbonate, Citric Acid, Sea Salt, Sel de Mer (French), Coconut Milk*, Kaolin Clay, Sodium Lauryl Sulfoacetate, Orange Peel, Grape Seed Oil*, Argan Oil*, Mango Seed Butter*, Sweet Orange Oil*, Rosemary Oil*, Lemon Oil*, Grapefruit Oil*, Ylang Ylang Oil*, Aloe Leaf Juice*