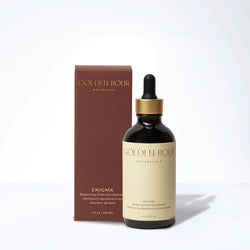 ENIGMA
ENIGMA Balancing Charcoal Cleanser
BALANCING CHARCOAL CLEANSER

Wash away impurities, remove excess oil, and prevent breakouts with this charcoal-activated gel cleanser.
Gentle detox exfoliation

Can leave skin clear, supple, and plump
Supports healing and calming of the skin
May promote stronger elasticity
May unclog pores and remove buildup on the skin's surface
How to use: Wet face first. Put 4-6 drops into wet hands, rub together into a light lather, and massage into the face and neck. Rinse thoroughly with warm water. Follow with Golden Hour Botanicals serum or moisturizer.
Ingredients 
Activated Charcoal exfoliates without stripping the face of natural oil, relieving the skin of impurities. Detoxifying and purifying, charcoal supports the shrinking of pores and can tighten the skin.
Ginger Root Oil works to protect skin against free radicals and supports healing thanks to its astringent and anti-inflammatory properties. It helps to detoxify and prevent breakouts.
Botanical Hyaluronic Acid is incredibly effective in making your skin clear, supple, and plump, for all skin types and conditions while being 100% natural and ethically derived.
Tapioca can brighten the skin complexion, support skin clearing, hydrate, and maintain moisture.
Salicylic Acid helps unclog pores and remove dirt, bacteria, and grime that has built up on the skin's surface.
Full Ingredients: Aloe Barbadensis (Aloe Vera) Leaf Juice Organic, Cocamidopropyl Betaine, Decyl Glucoside, Propanediol, Cassia Angustifolia Seed Polysaccharide (Botanical Hyaluronic Acid), Methyl Sulfonyl Methane (MSM), Charcoal, Benzyl Alcohol, Salicylic Acid, Glycerin, Sorbic Acid, Tapioca, Cellulose Gum, Xanthan Gum, Mica, Citrus Sinensis (Sweet Orange) Oil, Natural Vanilla Oil, Zingiber Officinale (Ginger) Root Oil, Phenoxyethanol, Ethylhexylglycerin