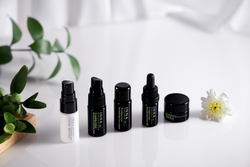 Inna Organic
Inna Organic Frankincense Mini Travel Kit
FRANKINCENSE REVITALIZING MINI TRAVEL SET features Inna Organic's signature Frankincense age-defying skin care collection in TSA-approved travel sizes.
This portable skin care set includes everything you need to glow on-the-go:
Skin Purifying Cleansing Gel (15ml)
Frankincense Boosting Revitalizing Toner (15ml)
Frankincense Revitalizing Face Lotion (10ml)
Frankincense Revitalizing Face Oil (5ml)
Frankincense Revitalizing Face & Eye Cream (5ml).
•SKIN PURIFYING CLEANSING GEL gently flushes out dirt, impurities and makeup residue without stripping skin of its natural moisture.
•FRANKINCENSE BOOSTING REVITALIZING TONER preps skin to better absorb moisturizers and serums, dramatically boosting the effectiveness of any skin care routine.
•FRANKINCENSE REVITALIZING FACE LOTION absorbs quickly infusing skin with lightweight, anti-aging hydration.
•FRANKINCENSE REVITALIZING OIL nourishes dry, dull skin with its silky-soft—never greasy—formula and blend of anti-aging botanicals.
•FRANKINCENSE REVITALIZING FACE & EYE Cream is a double-duty, age-defying cream for the entire face, including the delicate skin around your eyes.
•EWG and COSMOS certified-organic. 100% cruelty-free and gluten-free.
•Formulated without parabens, phthalates, silicones, sulfates (SLS/SLES) and artificial fragrances. •Suitable for all skin types, including sensitive skin.