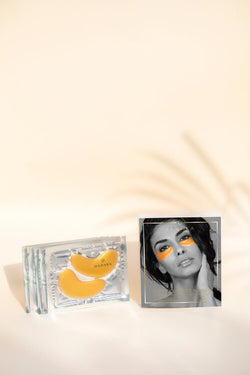 Hadaka Beauty
Hadaka Beauty 24kt Gold Eye Mask Pack 5
EYE MASKS.
Infused with hyaluronic acid, vitamin A and collagen that penetrates the skin to provide for a deep moisturizing effect.
24KT GOLD EYE MASKS can be used while you are doing your eye makeup to hydrate the under eye area and reveal brighter skin, allowing your makeup to stand out.
These eye masks are great during air travel to hydrate the skin and arrive refreshed and glowing to your destination.
 How to used: Reusable up to 2-3 times, and as a daily or weekly treatment to give skin moisture and achieve that special glow!
- Apply under eyes onto clean skin
- Leave on for 15-20 minutes
- Remove eye masks and gently massage remaining excess into skin around the eye area
- No need to rinse
ACTIVE INGREDIENTS:
Glycerin moisturizes the skin by drawing water from the air into the skin's outer layer, forming a protective barrier that helps to prevent moisture loss.
Propylene glycol is an organic compound that is able to absorb and help the skin retain moisture, and helps active ingredients penetrate the skin for further hydration.
Activated Gold contains antioxidant properties that promote blood circulation, which increases the metabolism of skin cells, hydrating and maintaining the skin's moisture levels. It is characterized by its antibacterial and anti-inflammatory properties that help oxygen to enter the skin for the renewal of skin cells, reducing the breakdown of skin's elasticity and restoring lost elasticity of tissues, leaving you with firm, toned skin. Gold also provides protection from sun damage as it reduces the production of melanin that is normally stimulated with exposure to the sun. 
Acacia Senegal Gum helps lock in moisture and is proven to decrease the depth and appearance of wrinkles.
Vitis Vinifera (Grape) Seed Extract is a natural antioxidant and contains anti-inflammatory properties including malic acid, an AHA (alpha hydroxy acid), which helps to exfoliate the top layers of skin, promote the restoration of moisture and allows for other active ingredients to penetrate the skin. Grape seed extract is also effective in the improvement of skin texture and maintenance of an even skin tone as it targets discolouration.
Prunus (Plum) Domestica Seed Extract contains a high level of antioxidants that are beneficial for dry skin. It is non-greasy and easily absorbs into the skin to lock in moisture.
Trehalose is a sugar derived from plants that contains hydrating and antioxidant properties that decrease signs of aging and allow the skin to retain moisture when applied topically. 
 Collagen is produced naturally by our bodies and is the protein that produces the elasticity in our skin and replaces dead skin cells. It helps your skin to look firmer, increases smoothness, and stimulates skin cell renewal and repair.
Retinyl Palmitate is converted into retinol (Vitamin A) which converts to retinoic acid. Retinoic acid causes already aging cells to renew themselves, produce collagen and promotes elasticity within the skin, decreasing the appearance of fine lines and wrinkles. It also acts an exfoliator as it removes dead skin cells and stimulates the production of new cells.
Hyaluronic Acid possesses moisture binding capabilities like no other which is vital in the prevention of fine lines and wrinkles. It also protects against environmental stressors like free radicals created from pollution, smog, dust, cigarette smoke, and the sun.
Avena Sativa (Oat) Peptide creates a protective barrier and promotes the retention of moisture with soothing and healing properties that decrease inflammation and redness.
Also contains: Potassium Sorbate which is a natural, mild preservative derived from berries and Aqua.