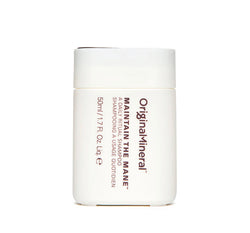 O&M
O&M Maintain the Mane Shampoo 50ml
DAILY MOISTURIZING SHAMPOO
Anytime, anywhere, anyone can use Maintain the Mane Shampoo to gently cleanse and moisturize the scalp and hair daily with Australian Banksia Flower and Sweet Almond Oil.
All O&M Hair Care products are consciously formulated with nourishing Australian naturals, vitamins and gentle surfactants that create healthy, lustrous hair without the chemical overload. Does not contain: parabens, triclosan, phthalates, sulfates or sodium chloride.
How to use: Apply a small amount of Maintain the Shampoo to scalp. Gently massage. Rinse. Repeat if necessary.
 Benefits:
Gently cleanses and moisturizes the hair and scalp
Nourishing Australian naturals nourish and hydrate without weighing hair down
Non-Toxic formula supports good health and well-being
Value size ideal for salon backbar
Cruelty Free & Vegan
Ingredients 
Australian Banksia Flower shields locks from harsh elements and daily stress.
 Sweet Almond Oil is rich in Vitamin E that gives lightweight hydration and softness.
 Macadamia Nut Oil is a lightweight oil rich in fatty acids that moisturize and regenerate the hair.
 Natural Surfactants from coconut ensures a gentle cleanse without stripping scalp of it's natural oils.