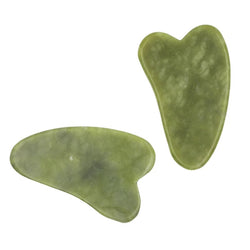 ECOLONE Beauty
Jada Stone Facial Skin Tool Massager
Enhance your skincare routine with this facial massaging tool which is a modern take on an ancient beauty ritual, this Jade Stone Sculpty tool helps to contour the face, leading to a more youthful, radiant complexion.
How to Use Your Jade Facial Massager:
First, prep your face with a CLEANSER to wash away the day's (or night's) dirt and bacteria.
Next, apply your favorite FACIAL OIL or MOISTURIZER to your face.  You want something with staying power here so that your gua sha glides along your skin.
Take your Jade stone and start at the base of your neck and using a light scraping motion, work your way up to your jawline.
Scrape up, towards your forehead, going over your jawline, chin, and mouth.
Scrape across your checks and press under the eyes and across your eyebrows.
Each product is hand made from natural stone so there will be color variations & minor size differences.