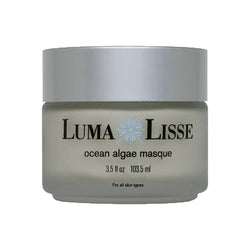 Luma Lisse
Luma Lisse Ocean Algae Masque
CLAY MINERAL MASK
Detox and purify your skin with an alchemy of Sea Kelp, Kaolin Clay and Ginseng Root. This deep cleansing mask draws out impurities, excess oil and unclogs pores, for a fresh face that radiates.
Benefits:
-Reveals fresh, energized skin
- Absorbs excess sebum and unclogs pores
- Eliminates dead skin cells, impurities, and toxins
- Cruelty-Free & Vegan
Ingredients: Kaolin Clay is the gentles of all cosmetic clays, as it does not strip skin of its natural oils. It's high silica content aids in the removal of dead skin cells, and has an overall detoxifying effect. Sea Kelp Extract contains iodine, minerals and antioxidants that easily penetrate to remove toxins, soothe and hydrate the skin. Ginseng Root Extract has been used in Ancient Chinese medicine for thousands of years due to its ability to brighten and revitalize the skin, while increasing healing time. Goldenseal Herbal Extract is an effective antiseptic that fights against acne formation. It also supports skin health and softness.